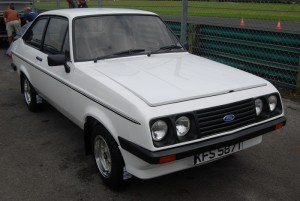 Produced : 1976-80
Engine cc : 1993
Engine bhp : 110
Top Speed : 108mph
0-60mph : 8.5
Launched in Jan 1976 the RS2000 was based on the two door MKII Escort.
It used a 2 litre in-line four SOHC engine mounted longitudinally in the bay.
The gearbox was bolted to the rear of the engine.
Power was then fed to the diff by a prop shaft then onto the rear wheels.
A single twin venturi 32/36 DGAV Weber carb was fitted with the option of a Group 1 dual Weber 40 DCNF or IDF. Twin 45 DCOE's could be fitted but the battery had to be relocated.
Ignition used a normal pre-electronic setup.
Front suspension used independent MacPherson struts with an anti-roll bar.
Rear suspension used leaf springs with telescopic dampers.
Front mounted disks (solid) and rear drums were used.
Four spoke alloy wheels came as standard.
The most recognizable feature of the Mk2 RS2000 is the `droop snoot` nose.
The RS2000 was available in the following colours,
Black, Orange, Beige, Signal Green, Signal Yellow, Venitian Red, Carnival Red, Midnight Blue, Riviera Blue, Terracota, Bronze, Java Green, and Diamond White.
At the time of its launch only 1 spec was available.
A 1976 RS2000 as standard had all the options which were later to make up the `custom pack`.
The only trim colour was black.
In mid `77 the broad body stripe was dropped for a smaller twin coachline, at the same time the RS2000 decal was place onto the rear quarters.
The biggest spec change came in September `78. The RS was now available in two specifications (basic and custom).
The basic was exactly the same mechanically but it lost a lot of the `luxuries`, including
Tinted glass, glove box, door cards, console and the alloys. The interior was a mixture of the 1600 Sport and the Mexico.
The custom was much the same as the original of `76 except the following.
The original Scheel seats were replaced by Recaros, the glass had a bronze tint instead of a green one and you had a choice of trim colour!
Many options were available for the RS2000 & the whole Mk2 Escort range, these options were known as 'Series X'
in brief between 1976 and late 1978 there was only 1 model of RS2000, and hence it had some of the later Custom features, BUT if had roll top seats.
Late 1978 (when they had dropped the Mexico) they had 2 models of RS2, the base and the custom.
the custom trim should have the following.
Fishnet Recaro seats, full door cards, clock and pod, centre console, 6Jx13″ alloys, boot carpet, remote drivers door mirror and the back panel around the rear lights was black.
Base trim had Mexico door cards, steel wheels, and body colour rear pane.
Pre 78 models would of had some of the later custom features but not the fishnet seats.