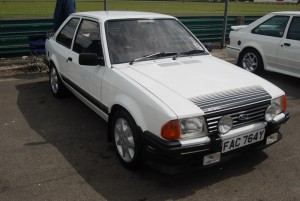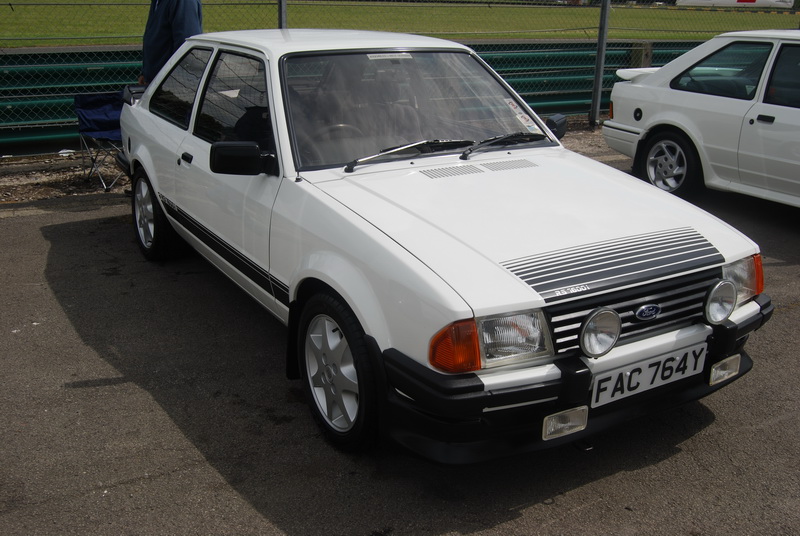 Produced : 1982-83
Engine cc : 1597
Engine bhp : 115
Top Speed : 119mph
0-60mph : 8.7
Escort RS1600i was the first RS Escort since 1980. It was introduced in September 1981, and production ceased in July 1983. Ford planned to build only 5000 for homologation requirements, but it sold so well that 8659 cars were made (2600 sold in the uk).
1597cc CVH engine was fitted with Bosch K-Jetronic fuel injection and unique AFT twin coil electronic ignition. The engine also used solid tappets and different camshaft, these allowed the engine to rev much beyond its limited 6500 rpm in racing trim. RS1600i engine had great tuning potential, and Group A racing Escorts produced over 160hp.
The transmission was a 5-speed B5-gearbox with a different fifth gear ratio of 0.83:1, all other Escorts used 0.76:1 ratio. Front suspension was very different from other Escorts, it used two longitudinally mounted supporting arms with separate anti-roll bar. These provided the castor angle to be adjusted, which was required for racing purposes. It also reduced torque-steer effect, which is the problem in powerful front wheel drive cars. Outside the car was fitted with front and rear spoilers, these were unique to RS1600i. Up to 9 optional extras could be added to the spec including tilt/slide glass sunroof, electric windows, central locking, tinted glass, opening rear ¼ windows, different radios and rear seat belts combinations. The Executive Pack option combined the sunroof, electric aerial and RST 21P Radio/Stereo cassette.
Engine
CVH, iron block, alloy cylinder head SOHC, 8 valves, solid tappets.
Bore and stroke 79,96 x 79,52mm , 1597cc, compression ratio 9,9:1.
Bosch K-Jetronic fuel injection, AFT twin coil distributor less ignition.
Max power 115hp at 6000rpm, max torque 145Nm at 5250rpm.
Transmission
Front wheel drive.
200mm single plate clutch.
5-speed gearbox, 3,84:1 final drive ratio.
Suspension
Independent front suspension, McPherson struts, anti-roll bar, individual TCA tie-rods.
Independent rear suspension, transverse arms, separate coil springs and dampers, longitunal tie-bars.
Brakes
240mm ventilated front discs.
180 x 36mm rear drums. Servo-assisted
No. Built
The original numbers quoted by Ford
Sunburst Red-560
Caspian Blue-290
Strato Silver-250
Diamond White-530
Black-820
Graphite Grey-250