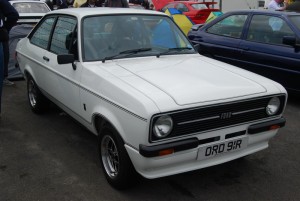 Produced : 1975-78
Engine cc : 1600
Engine bhp : 95
Top Speed : 105mph
0-60mph : 9.1
The MK2 Escort RS Mexico was produced between November 1975 and July 1978, all the UK models were built in Saarlouis, the West Germany. Only around 2500 MKII Mexicos were sold over this period. The MK2 was a replacement for the successful MKI Mexico.
The MKII Mexico was produced at the same time as both the Escort 1600 Sport and the Escort MKII RS2000 .
Available colours were:
Diamond White
Daytona Yellow
Signal Yellow
Signal Amber
Signal Orange
Carnival Red
Venetian Red
Calypso Green
Peppermint Green
Signal Green
The interior was available only in black.
The Engine
The engine was a 1600cc overhead cam Pinto unit producing 95bhp at 5750 rpm. To fit the this unit into the standard Escort MKII body shell a number of components needed modification:
Aluminium alloy sump
Aluminium alloy engine mounts
Aluminium alloy alternator bracket
Cast iron exhaust manifold
Gearbox and Transmission
The gearbox was a 4 speed Type-B unit featuring a quick shift action. The rear axle is known as a Timken (or English) type this was mounted using forward facing radius arms bolted to the chassis rail.
Steering was non power-assisted and used a rack and pinion. Front suspension was via independent MacPherson struts and Sachs dampers. The rear also used Sachs dampers with multi-leaf springs.
The MKII Mexico ran either steel 5.5 x 13 inch wheels or optionally 6J x 13 inch four spoke alloy sports wheels. Standard tyres were Pirelli 175/70 x 13 CN36′s.
The Interior
The front seats were 'Recaro' style made by Scheel and were the same as those fitted to the early MKII RS2000 . Competition front bucket seats were listed as an optional extra. A sports steering wheel was fitted with a five white needle instrument cluster.