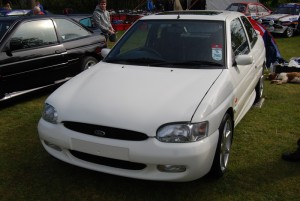 Produced : 1991-96
Engine cc : 1998
Engine bhp : 150
Top Speed : 129mph
0-60mph : 8.2
The Mk5 Escort RS2000 was launched in November 1991. Ford had big plans for this to be worthy successor to the Mk1 & Mk2 Escorts. Ford launched the RS 2000 into it's own one make motorsport series. The events covered rally stages & race circuits around the UK. But lack of commitment from Ford brought the Series to a close after 2 years of running. It was proven over time that the RS2000′s all new I4 engine was a hard package to tune, works cars had engines developed by Mountune Race engines in Essex, UK. The RS2000 had a very chequered career but did win a few rally events in Ireland & Isle of Man.The last development of the Mk5/6 RS2000 was the Escort Kit car for Formula 2 rally championships where is won the FIA F2 British rally championship in 1996.As a road car the Mk5/6 RS2000 has proven it's self to many owners to be a fantastic package & very underrated. A Future classic in the making with true motorsport pedigree.
Build (approx) : 6000 – 2wd, 500 – 4wd
Engine
At the time other Mk5 Escort were still using CVH engines because the new Zetec 16 valve engines were not introduced until 1992. Instead of using CVH , Ford chose the 'I4′ 8 valve DOHC engine used in the Sierra and Scorpio as the base for the RS2000 engine. Fitted with a new Ford developed 16 valve head this engine produced 150hp. As opposite to other Ford overhead cam engines, this engine used chain driven camshafts. Tubular exhaust manifold was quite good design when compared to usual Ford cast iron manifolds.
DOHC 16v, iron block, alloy cylinder head.
Bore and stroke 86,00 x 86,00 mm , 1998 cc, compression ratio 10,3:1.
Electronic fuel injection, Ford EEC IV engine management system.
Max power 150 hp at 6000 rpm, max torque 190 Nm at 4500 rpm.
Transmission
Transmission was based on the 'MT75′ gearbox designed for rear wheel drive Fords. In the RS2000 it was used as a transverse version called 'MTX75′. Gear change quality was much better than in the old 'B5′ box and it even had synchronous reverse gear.
5-speed manual MTX75 gearbox, front wheel drive.
220mm single plate clutch.
Body and interior
RS2000 used the same basic body shell as other Mk5 Escorts. Front indicators were moved to the front bumper which also included fog lamps. The front grille and bumper were also modified. Colour coded side skirts and rear spoiler were standard in the RS2000. Bonnet had two unique 'bumps', one of which was needed to clear the engine cam cover on the drivers side.
Recaro seats were the most notable feature of the interior. Standard equipment also included a tilt and slide sunroof, electric windows and central locking. Lighting on the Dash was a unique orange glow with red detailing, almost all Ford had a green lighting. Red detailing was introduced on the Steering wheel and Gear knob.
Colour Options and year
Diamond white 1991 – 1996
Radiant Red 1991 – 1996
Black/ash Black 1991 – 1996
Moon Dust Silver 1991 – 1996
Polaris Grey 1991 – 1993
Pacifica Blue 1991 – 1993
Cayman Blue 1993 – 1994
Levante Grey 1994
Nouveau Red 1995 – 1996
Petrol Blue 1995 – 1996
Tourmallard Green 1995 – 1996
Dark Aubergine 1995 – 1996
Auralis Blue 1995 – 1996