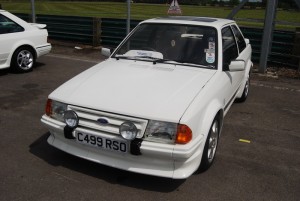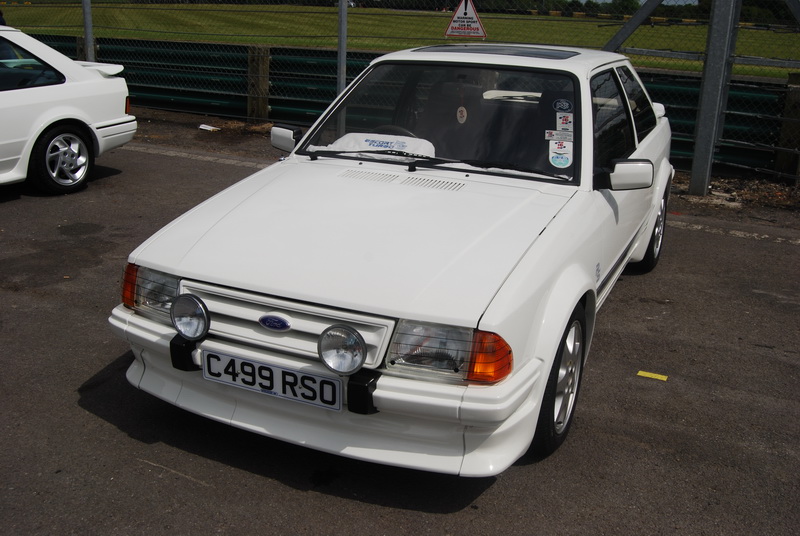 Produced : 1984-86
Engine cc : 1597
Engine bhp : 132
Top Speed : 127.1mph
0-60mph : 8.3
The Ford Escort RS Turbo is based on the 3-door Ford Escort Saloon and was supplied in a Diamond White body colour only, except for a very few one offs.
The RS Turbo is given a distinctive sporty appearance by body coloured front grill, bumpers and aerodynamic aids; the deep front spoiler contours are continued around the car by front and rear wheel arch spoilers and interconnecting door sill extensions. On the tailgate an XR3i spoiler (also body coloured) is fitted together with a "RS Turbo" decal. RS Decals are fitted to the front fenders immediately above a graduated, wide bodyside stripe. The Interior is trimmed in a combination of Monza and Cashmere fabrics and XR3i type "Recaro" LS bucket seats are fitted as standard.
Engine
The engine fitted to the RS Turbo is a 1600 CVH unit modified to suit the higher loads and the application of the turbocharger. Computerised fuel injection and engine management incorporating turbocharger boost control is also fitted.
The turbocharger increases the engines performance in the lower engine speed ranges which are primarily used under normal driving and therefore provides a very usable increase in power and torque.
CVH 1600 Turbocharged, intercooled – 132 BHP
Fuel system
The fuel system is Bosch "KE Jetronic" which incorporates an electromagnetic pressure actuator to control the lower chamber pressure. A computerised module receives signals about the engine condition and alters the electrical current supplied to the actuator which the modifies the fuel pressure and hence mixture.
Fuel consumption is kept as low as possible for each engine condition and pollutant emission is minimised as a result of promoting optimum combustion.
Transmission
The Transmission is 5-speed and differs from the XR3i in two respects; final drive ratio is 4,27:1 as opposed to 4,29:1 this is as a result of the number of teeth used to provide increased strength. More importantly, the transmission is fitted with a unique viscous controlled limited slip differential which reduces widely varying speed differences between the drive shafts and hence improves cornering and drivability.
The Escort RS Turbo was the first front wheel drive road car in the world to use this compact viscous-coupling design limited-slip differential instead of a normal mechanical limited slip differential.
Chassis
The Front suspension utilises cast iron corner brackets with reinforcements which provide the mounting for the tubular anti-roll bar and adjustable tie rods.
Heavy duty suspension units with uprated springs are fitted front and rear. The suspension units are unadjustable.
195/50 VR x 15 tyres are fitted to cast aluminum 7 spoke RS wheels.
Wheels size : 6j x 15