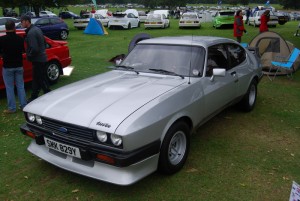 Originally it was thought that 200 were built at the Ford Cologne factory between July 1981 and September 1982, but numbered transmission tunnels indicate that just 155 conversions were produced. German RS dealers marketed this Zakspeed inspired left hand drive only "Werksturbo" based on the 3.0S, but with widened series X bodywork, front and rear "Ford Motorsport" badged spoilers, deep 7.5j four spoke RS (Ronel) alloy wheels.
Interior featured the Scheel seats finished in shark grey crushed velour trim, with matching similar to the Escort RS1600i that was produced at the same time
The engine was based on a normally aspirated carburettor equipped 2.8-litre Cologne V6, Ford Granada (Europe) engine using electronic ignition, a tuftrided crankshaft, heavy duty head gaskets and oil pump, oil cooler and a single Garrett T4 turbocharger providing 5.4 psi of boost, a limited slip differential, Bilstein dampers all around, anti dive kit, uprated RS anti roll bars and single rear leaf springs, the engine put out 188 Hp at 5500rpm
Today it is one of the rarest Ford RS cars.
Ken Dutton-Topping