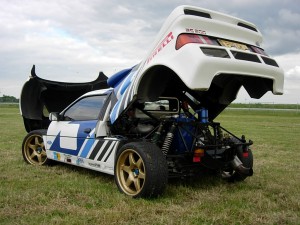 The abandonment of the RS1700T project in 1983 paved the way for a blank page approach to Group B rallying and led in turn to project B200 which later gave birth to the RS200. Group B regulations required a minimum production run of 200 units and Ford reached this target with homologation awarded in Feb 1986 with their now re-worked 1800cc BDT engines mid-mounted into a fibre-glassed body/composite monocoque designed four wheel drive chassis.
The initial units delivered 250 bhp but quickly tuners were able to generate over 550 bhp in works trim. Sadly Group B rallying suffered a series of serious and some fatal incidents and an accident involving an RS200 in Portugal was the final straw that set off a chain reaction leading to the cancellation of Group G in its entirety. Ford immediately ceased completion of the cars and ordered many to be broken back into parts meaning only 156 were sold as fully complete vehicles making them a rare car so early in their life. All cars began as a white painted gel coated car although Ford painted a very small number as red, blue and black during the public sales program.
Papers retained by Bob Howe who was responsible for the RS200 sales programme show that only 148 cars were ever fully assembled and some of those were prototypes and some were written off early in their life so maybe 140 remain, many of which have now been traced.
Produced : 1984-84
Engine cc : 1803/2100
Engine bhp : 250/650
Top Speed : 140mph
0-60mph : 6.0