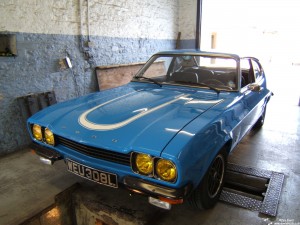 Produced : 1975-77
Engine cc : 2673
Engine bhp : 150
Top Speed : 124mph
0-60mph : 8
The production approval for the first RS Capri the Capri RS2600 was received by FAVO at South Okendon in Oct 1969 by March 1970 a car had been completed in readiness for the Geneva Motor Show albeit with a mock up injection system, the next group of 50 cars built for Homologation purposes at the Niehl Plant were all lightweight models these cars did not have fuel injection but they did have the long throw crankshaft to give them over 2.6 litres as required for competition, they also featured glassfibre doors, boot and bonnet made by BBS they had no heaters or carpets they even cut down on paint and fitted sliding perspex windows in an attempt to achieve the 900kg required for racing but the build quality of these cars was so poor the car was not legal to sell in Germany.
By September 1970 the first production RS2600 rolled off the line at the Niehl Plant only to find that on full lock the wide alloy wheels fouled the front wings, resulting in the unique front wings on the RS2600 and RS 3100 as we know them, unlike the lightweights. The Scheel seats used in the production RS2600 were reclining not fixed back, these remained throughout the whole production although the material changed in October 1971 when the major changes took place, including the fitting of ventilated front discs, revised ratios to gearbox and rear axle, the addition of quarter bumpers in chrome both front and rear with the front ones incorporating the indicators. Earlier models used Mk1 Escort items let into the front panel. These 1971/72 cars also ran revised suspension settings.
In September 1972 the whole Capri range was facelifted, this saw the RS2600 with new 4-spoke RS alloys, a flat 3-spoke steering wheel, black finished bumpers all round with full width at the rear, it also featured a Decal kit and a front spoiler. Production of the RS2600 since 1972 was now taken care of at the Saarlouis Plant. There were a total of 3,532 cars built between 1970-75 with the most in 1 year being 1360 in 1972 and just 1 in 1975, there were 256 RS Capris exported to France and 43 exported to Austria, the last car sold in Austria in 1975. The RS2600 was available in any colour of the Ford range although most of the pre-facelift cars had Satin Black bonnets and engine bays, there was also a host of options available including radio, sunroof and LSD.
FORMAT: Rear drive, designed and developed by Ford Advanced Vehicle operations department in the UK for German LHD production only. Initially 50 were made of very light weight for completion requirements, subsequently Fords first European fuel injected production car complying with international Group 2 (1000 annual production) sport regulations. Ford's front line European saloon car racer with Westlake alloy heads, 2.8-3.0 litres, and over 320 bhp/165 mph capabilities.
BODY: Original MK1 Capri two door in steel with quadruple headlamps, front quarter bumpers and slight front weelarch flares. Unique fuel injection/RS decalling during run, along with front spoiler, two tone corporate colour schemes, switched from chrome to matt black bumpers. Aerodynamic drag factor, circa 0.39 cd.
DIMENSIONS: Length 169.4 in. Width 64.8 in. Wheelbase 100.8 in.
WEIGHT: Rose from original 1980 lb/900 kg to representative figure of 2376 lb/1080 kg.
ENGINE: Iron construction V6 of 60 degree, an enlargement of Ford Cologne's carburated vee range. Kugelfischer mechanical fuel injection. push rod OHV with two valves per cylinder and cam shaft in block. Compression, 10.5:1. stroke, 90mm x 69mm for 2673cc.
OUTPUT: Max power, 150 (DIN) bhp at 5800 rpm. peak torque, 165lb ft at 3500 rpm.
TRANSMISSION: Modified mechanical/hydraulic operation of single 9.5in plate clutch; four speed manual; live rear axle with hypoid 3.22:1 original final drive and subsequent 3.09:1.Two sets of gear ratios offered from Capri. originally as follows: first, 3.65; second, 1.97; third, 1.37; fourth direct.From September 1971: first, 3.16; second, 1.94; third, 1.41; fourth 1:1.
CHASSIS: Unassisted rack and pinion steering; MacPherson gas-damped bilstein strut inserts with front anti-roll bar and re-drilled front crossmember for negative camber; live rear axel with single leaf per side and radius rod location (later replaced by mainstream roll bar/location linkage), Bilstein gas damping via telescopics. Lowered ride heights retained throughout production. Servo assisted 9.6in solid discs started run, sept '71 switched to vented 9.75in front discs. Self-adjusting 9.0in x 2.25in rear drums.
WHEELS AND TYRES: Three primary types offered during run including Minilite magnesium on stripped original lightweights; Richard Grant alloys on early production.Subsequently (post-1971) Ford's FAVO four spoke was adopted:6.0in x 13in and 185/70 HR radials.
PERFORMANCE: Max speed, 124mph; 0-60mph, circa 8.0 secs; 0-100mph circa 25 secs. FUEL CONSUMPTION: 19-22mpg