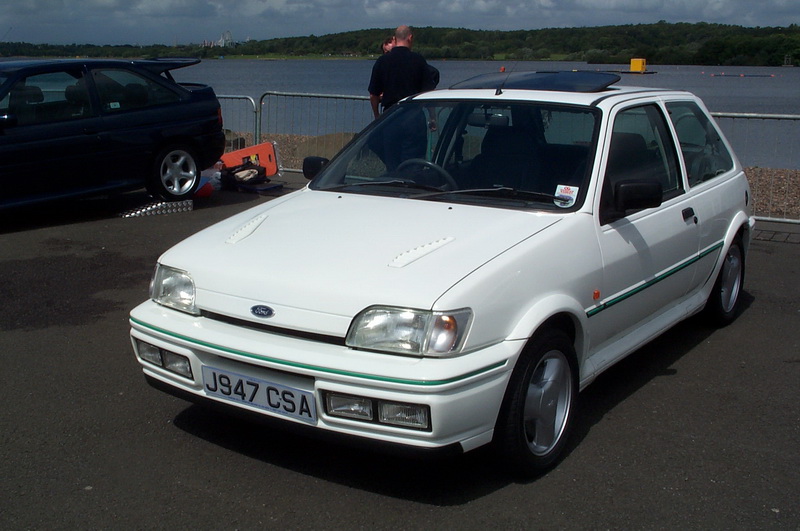 Produced : 1990-92
Engine cc : 1596
Engine bhp : 133
Top Speed : 127mph
0-60mph : 7.7
In 1990 Ford introduced an RS version of the Fiesta. It was fitted with 1.6 litre turbocharged version of the CVH engine. Basically it was the same as in the Escort RS Turbo, but with few differences. Turbocharger itself was changed to T02 instead of T03 in the Escort, this reduced turbo lag, and made the engine more flexible in low revs.
While Escort used Bosch KE-Jetronic fuel injection and Motorola engine management, Ford decided to use their own EEC-IV-management system in the Fiesta. Power figures were altogether quite same as Escort, 133hp at 5500 rpm and 183Nm at 2400rpm.
Inside Fiesta RST was fitted with Recaro seats otherwise it was basically as the XR2i.
Engine
CVH, iron block, alloy cylinder head SOHC.
Bore and stroke 79,96 x 79,52mm , 1597cc, compression ratio 8,3:1.
Ford EEC-IV engine management system.
Garret T2 turbocharger, max boost 0,55bar. Max power 133hp at 5500rpm, max torque 183Nm at 2400rpm.
Transmission
Front wheel drive.
218mm single plate clutch.
5-speed Ford B5 gearbox, 3.82:1 final drive ratio.
Suspension
Independent front suspension, McPherson struts, 16mm anti-roll bar.
Semi-independent rear suspension, trailing arms and torsion beam, 20mm anti-roll bar.