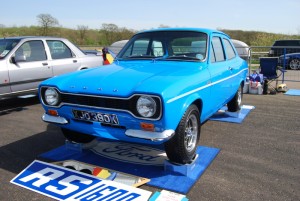 Produced : 1970-74
Engine cc : 1601
Engine bhp : 120
Top Speed : 113mph
0-60mph : 8.9s
Escort RS 1600 Specification
Engine
4 cylinder in line. Cubic capacity 1601cc (97.68cu in). Bore 80.98mm (3.19in). Stroke 77.72mm (3.06in). Compression ratio 10:1. Power 115hp (DIN) @ 6500rpm. Torque 110lb/ft @ 4500rpm. Overhead valves – 4 per cylinder. Twin overhead camshafts driven by toothed rubber belt. Four branch exhaust manifold. Acceleration 0 – 50 mph 6.4 secs. Top speed 110mph plus. (Motor 9/5/70)
Engine Lubrication
High efficiency mechanical pump. Full flow oil filter. Oil cooler unit. Capacity of system 9.25pints (5.25 litres) including filter and cooler.
Ignition
12 volt system, ballast resistor coil.
Fuel System
Mechanical pump. Electrical fuel gauge. Tank capacity 9.0 gallons (40.9 litres). Twin 40 DHLA DELLORTO carburetors.
Cooling System
Pressurized. Capacity of system 12.5 pints (7.1 litres).
Transmission
Three rail shift, four -speed synchromesh gearbox, single plate hydraulic 8 inch diameter diaphragm clutch. Ratios: 1st 2.972: 2nd 2.010: 3rd 1.397: 4th 1.00. Reverse 3.324. Final drive 3.77:1.
Body
Steel integral construction, safety glass all round with laminated windscreen. Two doors with anti-burst door locks. Air extraction vents below rear window. Single tone paint finish. Black painted aluminum grille and chrome plated front quarter and rear bumpers. Flared front wheel arches to accommodate extra wide wheels.
Rear-Axle
Semi-floating, hypoid final drive. Axle ratio 3.77:1.
Front Suspension
Independent coil springs, MacPherson struts with integral dampers and stabilizer bar.
Rear Suspension
Live Axle with semi-elliptic leaf springs and radius arms. Telescopic hydraulic shock absorbers.
Brakes
Front – disc brakes, diameter 9.625in (24.44cm), swept area 190.0sq in (1225.5sq cm). Vacuum servo-assistance. Rear – drum brakes, diameter 9.00in (22.86cm) , swept area 96sq in (619.2sq cm). Vacuum servo-assistance.
Steering
Rack and pinion. Three spoke, sports, leather rim steering wheel, diameter 14in (35.6cm). Turning circle (kerb) 29.7ft (9.054m).
Wheel and Tyres
Pressed steel ventilated disc, 4 stud fixing, 5 1/2in safety ledge rim wheels, diameter 13in, 175HR 70 x 13, radial ply tubeless tyres.
Electrical Equipment
35 amp alternator with integral voltage control. Starter motor. Dual horns. Battery 12 volt, 38 amp hour at 20 hour rate. 7 fuse system.
Instruments
Binnacle in front of driver containing speedometer and odometer, tachometer, fuel gauge, temperature gauge, oil pressure gauge and battery condition indicator. Warning lights for ignition, main beam and direction indicators.
Controls
Side/headlight, heater fan and windscreen wiper safety rocker switches, choke and starter/ignition switch with combined steering column lock. Direction indicators, main and dipped beam, headlamp flasher and horn controlled from single control stalk mounted on steering column. Hazard warning flasher. Floor mounted, foot operated washer/wiper control.
General Equipment
Two circular (quartz halogen 55/55w) headlamps with combined sidelights. Separate direction indicators below headlamps. Twin tail light assemblies incorporating direction indicator flashers, rear lights, brake warning lights and reflectors. Rear number plate illumination light. Windscreen washers and two speed wipers. High grade pvc upholstery, washable plastic headlining. Padded top to fascia and front of collapsible parcel shelf. Looped pile carpet. Individual front bucket seats with anti-tip device. Remote floor mounted gearshift. Door operated courtesy light. Reversing lights. Cowlslide map pocket. Two rear grab handles with coat hooks. Luggage compartment light. Safety styled door handles and window winders. Breakaway stem dipping rear view mirrors. Ashtray in fascia, rear ashtrays in side panels. Two padded, safety, sun visors. Face level ventilation system, vents in fascia combined with demister nozzles. Seat belts fitted to driver's and front passenger seats. (inertia Reel.) Vanity Mirror in passenger sun visor. Heated rear window.