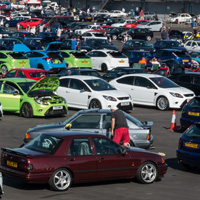 Car permits cost £5 regardless of where you want to park.

Only General Parking* will be available to purchase on the gate. (*subject to availability)

Some stand permits require the use of a unique password that has been given to the organiser of that area. Please contact the stand organiser for details, for all bookings made for these stands, a copy of the booking will also be sent to the stand organiser.

RSOC Members, in RS's Only
Anniversary Display
Local Group
Concours
Members Display (inc Associates)
Cars for Sale
Other Parking
Infield RS (Ford RS cars only)
General Parking
Visiting Car Clubs
Non RS Ford Concours
Show n Shine
Support Vehicles
Pit Area Support Vehicle (parked in Paddock 1)
Concours Support Vehicle (will be parked away from Concours zone)
Trader Support Vehicle (parked within the Traders allocated area)
(not required for vehicles used to transport cars holding a valid pass into the venue)
Disabled Parking
There is limited space close to the main event building, we will endeavour to accommodate any specific requests
ND_MOP.php