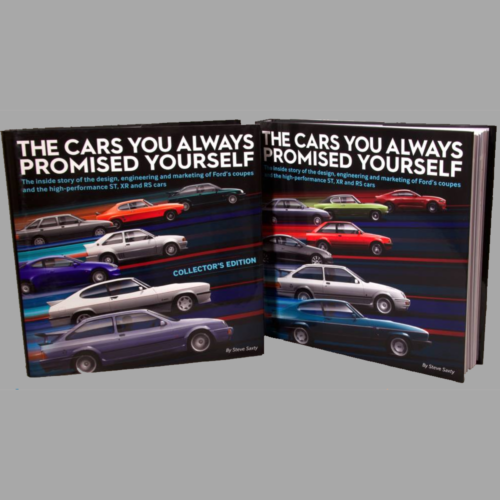 The Book You Always Promised
Yourself!


The inside story of the design, engineering and marketing of Ford's coupes and the high-performance ST, XR and RS cars

A 50-year tale that takes you behind the scenes of Ford's most iconic cars. A unique book developed with Ford's cooperation that allowedthe first-ever look at design sketches and prototypes that had been hidden for decades:


Prototypes:1975 RS2800 Capri, Sierra Cosworth 4x4 three-door.


Concepts: 1986 'RS Coupe', Sierra Targa, Jaguar-engined Cougar


Design sketches: Escort Coupe, Capri Targa, Escort XR/RS
A backstage pass inside the product planning, conception, and design of Ford's most iconic cars. For the first time – learn how the Capri, Escort and Sierra came to life – from GT40 to GT, Capri to Mustang, Escort RS to Focus RS.
"It's an important book about an important company, important people and the important cars they made." Mel Nichols former editor,CAR Magazine.