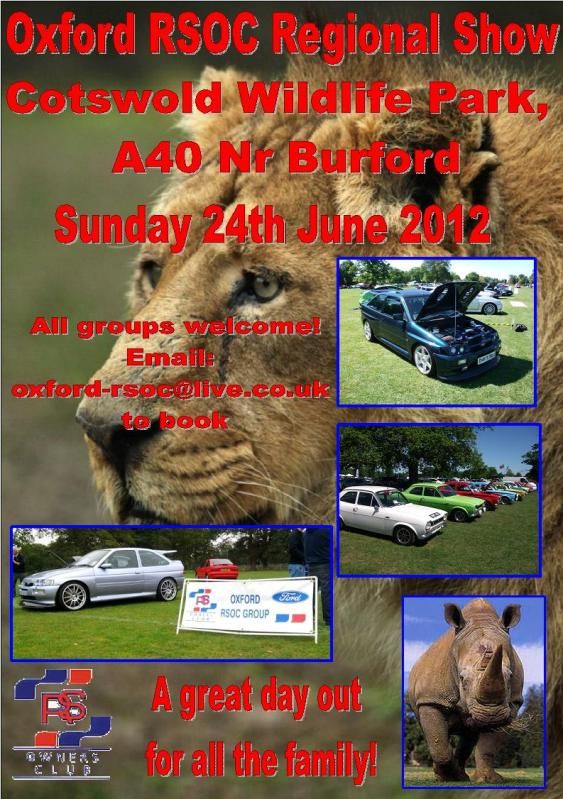 Hi there,
As Iím sure a lot of you will know the Oxford RS group will be holding there show again this year at Cotswold Wildlife Park on Sunday 24th June.
http://www.cotswoldwildlifepark.co.uk/
We had great feedback from the 2010 show and interest in the 2012 so far has been fantastic!
This will be our 3rd show so you must all know what its like, it is a very family friendly show, not only will there be some very fine Rs cars to look at but a whole wildlife park to explore, the kids love it!!
There will be Concours, Show & Shine, group stands/display stands, visiting groups and new for this year we will be running a RS part bring & buy.
Our bring & buy will work like this..
At shows you often see people selling the odd part out the back of a car, thats fine but do you want to sit there with you car all day and miss the show? If you pack your part away you may lose the only chance of selling it.. What we are offering is this service.
You bring your part to us, we will have it for sale in our marquee for the day leaving you to enjoy the whole show and before you leave pop back to see us. If it didnít sell you just take it back and if it does sell you will be picking up your money, minus a small fee to us for selling it for you.
This is not open to a van load of stuff being dumped on us, and is up to you to set your price.
Admissions:
As last time, you will need a display pass to allow you to be part of the show.
Drivers of cars with full RS membership and display pass will pay a £5 admission fee (must show current membership card on gate)
Drivers of cars with display pass but not full RS members will pay a £7 admission fee
Passengers will pay the park rate, detailed below:
Adults - £13
Seniors - £9
Children - £9
Under 3's Ė Free
Or..
You can pre book and pay us by 5th June and the passengers rate will then be
Adults - £10
Seniors - £7
Children - £7
Under 3's Ė Free
Drivers fee will remain the same.
You can contact me via PM or email:
oxford-rsoc@live.co.uk
for any more info you may need or to book a stand.
As said all bookings need to be made by 5th June to give us time to send passes.
The oxford group look forward to seeing you on the day.